Pamela Seelig
Pamela began practicing yoga more than 25 years ago and the effect was immediate and powerful. In 1991 when an illness interrupted her Wall Street career, she began meditating as a complementary therapy with some startling results. Along with speeding up recovery, the impact of meditation and yoga led to a lifelong pursuit of perceiving yogic wisdom.

She completed her teacher training in 2006 at Integral Yoga Institute in New York. Walking through the doors at Integral beneath the sign "Truth Is One, Paths Are Many" left a deep and indelible impression. Pam considers Swami Satchidananda, the founder of Integral, as her primary teacher (root guru), but she has trained with many of the top yoga luminaries in the world today. Pam is a fervent student of yoga and continues to deepen and expand her yogic knowledge and understanding. Along with Hatha yoga, Pam also studies Patanjali's Yoga Sutras and is a certified Raja Yoga and meditation instructor. While grateful for so many brilliant teachers along the way, she regards the practice itself as the greatest teacher.

After a decade of practice, Pam began teaching to friends at a local convent in NJ in 2006 and found sharing yoga profoundly gratifying. Her classes at the convent grew, and in 2009 she opened a thriving yoga studio in her community. Pam's classes offer students a vibrant, well-rounded physical practice while weaving in ancient yogic wisdom for modern life. After a rewarding nine years, she sold the studio, and began working on her first book, Threads of Yoga: Themes, Reflections, & Meditations To Weave Into Your Practice. She now lives in NJ where she practices yoga, teaches yoga workshops, writes, and empty-nests with her husband, Bob, and dog, Bodhi.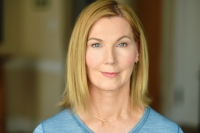 Blog Categories
Recent Posts